Happy Meatless Monday!
For those of you who are not familiar with the global Meatless Monday movement, you can check out this brief video for some insight. Seriously, it's less than a minute and a half of your day-- just watch it. In a nutshell, as participants of the Meatless Monday movement, Dan and I give up meat for the entire day each Monday. We're making a difference by simply giving up meat one day a week. Granted, we often eat more than one meat-free meal a week, but on Mondays, we dedicate the entire day. It's good for us, the animals, and the planet. To learn more about the Meatless Monday movement, visit their website at
www.meatlessmonday.com
.
Dan and I have been participating in Meatless Mondays for almost two months. We enjoy the meals, but sometimes going meatless isn't easy. We usually run into problems at lunchtime when we're in a hurry and we've forgotten it's Monday. We can't just eat our usual lunch of the prior dinner's leftovers. On days like that, I whip up some quick grilled cheese and tomato soup or a peanut butter and jelly sandwich if I'm on the run. We've been disappointed to learn that fast-food is often NOT healthy, vegetarian-friendly-- that's when Subway was our saving grace!
I figured you might be interested in hearing what an average Meatless Monday's meals looks like for us, so here's what I had today:
Breakfast
- all mixed up together
Instant low sugar oatmeal (3 Points+)
1 large banana (0 Points+)
1 tbl. Better'N Peanut Butter (1 Points+)
Lunch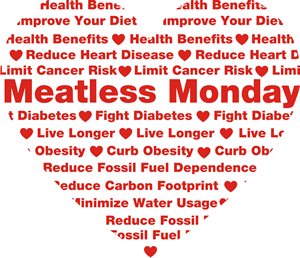 4 Chick'n nuggets- Trader Joe's brand (4 Points+)
Sweet potato fries (4 Points+)
Snack
Babybel light cheese wheel (1 Points+)
grape tomatoes, cucumber slices (0 Points+)
homemade garlic dip (1 Points+)
10 Special K chips (1 Points+)
Dinner
12 peanut M&Ms (5 Points+)
apple (0 Points+)
caramel dip (3 Points+)